This article will go over how to start or cancel your subscription to VZfit.
How to start a new subscription or buy a pass:
From the home screen in VZfit, press either the timer button or the account icon as shown here:
You'll see your options for a monthly subscription, daily pass or annual pass. Only the monthly subscription will automatically renew.
You'll want to make sure your payment information is up to date here before selecting a plan:
https://secure.oculus.com/my/payment-methods/
It is possible for more than one person to share premium as explained in this guide:
https://virzoom.zendesk.com/knowledge/articles/360059355551/en-us?brand_id=360003865411
How to cancel your subscription on Oculus (for members after 4/15/20):
For Oculus subscribers it's easiest to cancel from the Oculus website here:
https://secure.oculus.com/my/subscriptions/
How to cancel on vzfit.com (for members before 4/15/20):
If you are a subscriber from our website (before the official Oculus launch), go to this website to cancel:
and click this button:
Cancelling Subscription from the Oculus Mobile App
To cancel your subscription to VZfit/VZplay from the Oculus mobile app, open the Oculus mobile app and head over to Settings in the bottom right of the screen.
Within Setting, head over to Subscriptions.
Locate your Active Subscription.
Press Cancel Subscription
Press Confirm.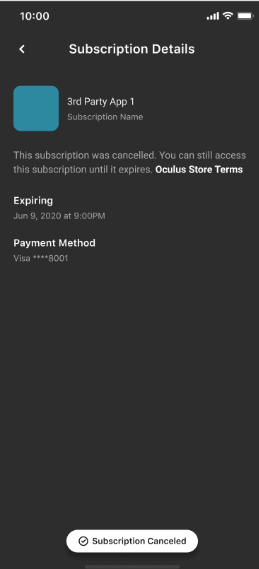 You're all set! Hope to see you back soon.
Cancelling Membership from Your Headset.
From the Store, click on Your Account towards the bottom left of the main screen.
Head over to Subscriptions
Click on VZfit, then on Cancel Subscription and then Confirm
Confirm the new Expiring date
You're all done! Come back soon.