If you are having issues with your sensor, or device transmitting properly to VZfit, we may ask that you send us a video of the device stats screen while you are pedaling.
How to make a video:
To start and stop recording a video, press the 'O' button on the right hand Quest touch controller. Then press the camera button. It will be in location of this stop button shown here.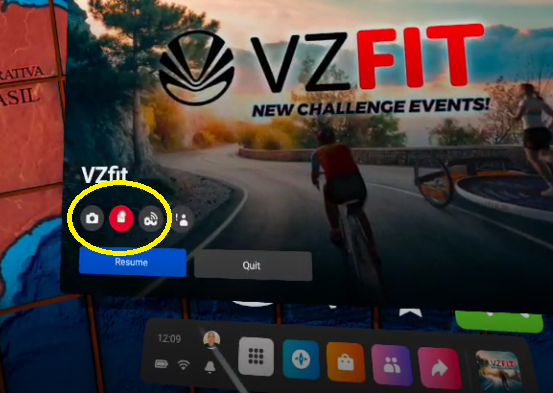 Once your recording starts, you'll see a red dot appear in the top right of your screen to let you know recording is taking place.
How to share a video:
You can connect your headset directly to a PC with a USB-C cord, allow permissions, and drag the video file onto your hard drive.
The file path is: Quest 2 > Internal Shared Storage > Oculus > VideoShots
Then, just attach the video to your ticket.
This is the easiest way to share a video.
Alternatively, you can share the video with yourself via the in-headset options to share to Facebook. We recommend making the video only visible to yourself so you don't confuse your Facebook friends.
From there, you can download the video by clicking into it and saving the video locally.
You'll see the option to download the video as shown here:
Then attach the video to your ticket.